Old RVs Texas
Hello!  Do you have an older that you are not using at this time?
Well yes, we BUY older RVS, anywhere in Texas, and w pay top cash!
Call Harry or Abel at 844-960-0785, tell them about your RV and strike a deal with them!

Old RVs For Sale

Perhaps you want to sell the RV on your own.  "The FSBO option is a fine idea!"
But if you find your self being overwhelmed by details, call us and we will be glad to help you sell it!  We will give you some tips on how to sell your RV with the "for sale by owner" method!
Cash for Junk RV
If your RV is over 15 to 22 years of age, and it needs some repair work, RV Consignment may not work so well. 
If your RV has a low market value, Call us at   and we'll be happy to put some cash in your hand!
No Title or Salvage TITLE
If your RV is old, and has a Texas salvage title, or needs repair, it probably still has a monetary value.  Call us for our "best offer"!
We come to your location anywhere in Texas!  (No need to move your RV again!)
Frequently, we beat the dealers' cash offers.
Problems, older RV, No TITLE … This does not matter.
Call Harry or Abel at 844-960-0785 for a nice chat and a very fair offer.
We Buy Tx RVs for Cash
We Buy RVs at Sell My RV Arlington and Consignment!
Call 844-960-0785 for a free appraisal. We offer cash for your RV, with no delays or expenses for you!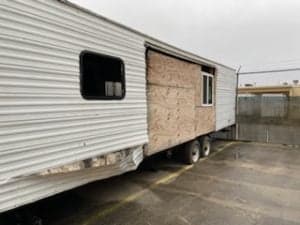 Selling your RV to us is a simple and straightforward process. Here's how it works:
Contact Us
Call 844-960-0785. We Buy RVs at Sell My RV Arlington, and we beat Consignment offers. Give us a call or fill out our online form to provide us with details about your RV. We will schedule a convenient time for an evaluation.
Payment and RV Pickup
If you accept our offer, we will handle all the paperwork and payment process. Once we have an agreement, we will arrange for the pickup of your RV at a time that is convenient for you, and place the cash in your hand.
Frequently Asked Questions
Can I sell my RV if it's not in good condition?
Yes, we buy RVs in any condition, whether they are in good shape or need repairs. We are interested in purchasing RVs of all ages and conditions.
How long does the evaluation process take?
The evaluation process typically takes a few hours to a day, depending on the complexity and condition of your RV. We strive to provide a quick and efficient evaluation process.
Do I need to pay any fees to sell my RV to you?
No, there are no fees involved when selling your RV to us. We handle all the paperwork and payment process, ensuring a hassle-free experience for you.
What types of RVs do you buy?
We buy all types of RVs, including motorhomes, travel trailers, fifth wheels, toy haulers, and more. Whether you have a Class A, Class B, or Class C motorhome, or any other type of RV, we are interested in purchasing it from you.
Can I still sell my RV if I have an outstanding loan on it?
Yes, we can work with you even if you have an outstanding loan on your RV. We will handle the loan payoff process and ensure a smooth transaction.
How soon can I get paid after selling my RV?
Once all the paperwork is completed and the RV pickup is scheduled, you can expect to receive cash or cashier's check for payment on the spot (Immediately!)
Do you offer any guarantees or warranties?
As a buyer of used RVs, we do not offer guarantees or warranties. However, we ensure a fair and transparent transaction process, and we are committed to customer satisfaction.
If you're ready to sell your RV or have any questions, feel free to contact us:
Phone: 844-960-0785
Email: Contact@SellMyRVForCash.com
Office Address: San Antonio, Texas
Business Hours: Monday-Friday, 9 A.M. – 5 P.M.
UGLY RVs
Motorhomes, 5th wheels, travel trailers, Campers, Class C, Class A, Class B, Coach, Motorized RV, Toy Hauler, plus!

What is the value of a used RV for sale by owner Fort Worth?  
Call Harry or Abel at 844-960-0785 for a friendly appraisal of your RV.