RV Consignment Houston
We buy Houston area RVs,  fast,  for top money!

Call Harry or Abel at 844-960-0785

and tell us about your RV!

Get the cash in your hand within a couple of days

!
We beat most dealer consignment offers,
We're convenient, and we put more money in your hand, FAST!
We take the headaches out of selling your current RV.  New, Old, Beautiful, or Beat up.  We'll give you a top cash offer within a few minutes,  Call Harry or Abel at 844-960-0785.
We always beat the big and small RV consignment programs in Houston, Texas metropolitan area!
We beat the consignment program offered by most Texas dealers!
Also, the RV Trader is very good, but it is full of conditional, built-in hurdles to cross.
About RV Consignment Houston
At RV Consignment Houston, we have years of experience in buying and selling RVs. We are a trusted name in the industry, serving customers in Katy and the surrounding areas. Our team is committed to providing excellent customer service and ensuring a smooth selling experience for every RV owner.
Questions: Call Harry or Abel at 844-960-0785 for a current FREE appraisal of your RV.
Why Choose RV Consignment Houston?
There are several reasons why you should choose RV Consignment Houston when selling your RV:
Competitive Cash Offers: We offer top cash for RVs, ensuring you get a fair price for your vehicle.
Quick and Convenient: Our selling process is quick and convenient, saving you time and effort.
No Advertising or Negotiations: We handle all the advertising and negotiations, so you don't have to.
Hassle-Free Experience: Selling your RV with us is hassle-free, allowing you to focus on other things.
We Buy RVs in Houston and Texas
Yes, Call 844-960-0785, ask for Harry or Abel.
We will beat any bona fide consignment or dealer offers!
You get more money today – more Cash for your RV!
Plus, we come to your location

.

We beat Consignment RV offers at RV Consignment Houston – 844-960-0785

We can buy all new and pre-owned RVs

.

Plus, you save time, and you have so much less anxiety to deal with!
Sell my RV Houston
When you are ready to sell your RV for TOP Cash, call Harry or Abel at 844-960-0785 for a great all-cash offer!
We'll buy your RV – new, ugly, or old
–  for top Dollar $$.
Sell to us that trailer (or tent) with the "issues" and Problems.
We pay you CASH for your RV!
Call for a friendly appraisal of your rig! 844-960-0785.  No obligation "offer to buy".
We come to you anywhere in Texas or neighboring states.
We will buy most rigs in Good condition.
And problems, small or large, are Okay!
RV for sale by Owner Houston
If you are thinking, "Sell my RV", we can get that done within a few hours, at your TOP market dollar price!
Call 844-960-0785.
We will give to you Top cash for your rig, Any Condition – any age. And we take care of the problems, the paperwork, and the expenses!
But if you want to sell your RV on your own, that's cool.
That being the case, here's a short guide to help you …
FSBO Guide: for Selling your RV for TOP Cash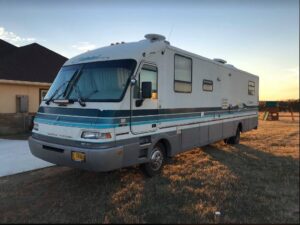 Take care of the little problems.  This is the biggest thing you can do to keep people interested in your rig.
When necessary, hire experts to quickly diagnose and repair complicated, extensive problems.
Discover the reasons for the intermittent electrical / electronic / dash / leveling / audio – video problems.
Clean your recreational vehicle thoroughly: Floors, walls, carpet, upholstery, refrigerator, engine, exterior, undercarriage, etc.
Remove your personal belongings (the clutter) from the rv.  If you want to include any personal items (utensils, tools, linens, etc.) with the sale, place these items in boxes.
Replace or repair the worn-out or broken batteries, water pumps, appliances, light bulbs, etc.
Clean the storage areas (basement), and repaint them if necessary.


More tips that will further enhance your RV's resale value.

Interior of Fleetwood RV Coach. 39′, brown upholstery, tan carpet.

Get the engine, transmission, generator, brakes, leveling system and tires serviced, repaired, or replaced as needed.
Verify the doors and drawers throughout the RV are working properly.  Inside and out.
Bring out the service information, receipts, travel logs, etc.
If the roof or windows are leaking, seal the leaks properly and repair the areas that have been damaged.
Finally, don't try to hide, cover-up, or ignore current or past problems.  To do so is a bad decision on so many levels.
Be honest and forthright about your pre-sale repair, and clean-up activities.
As you can see, preparing your rig for sale might be a multi-day, several thousand dollars a job. This project will take time, energy, and resources on the part of the owners.
And NOW you may get more than top dollar!
Preparing a coach, trailer, camper, tent, fifth wheel, or Class C for sale, can be emotionally, mentally, and physically challenging.
If you don't want to go through these steps, which is understandable, call us at 844-970-0785 today! We'll buy your rig and problems, as is!
Yes, we will beat any RV Consignment offer in the Houston area. Call 210 573 8894 for details and your cash offer – price!  We are the RV consignment Maven in Houston.
Sell your RV Houston
In summary,
We beat RV sales Houston, RV consignment Houston, RV consignment San Antonio, RV consignment near me, RV consignment Texas, RV Trader, Used RVs Texas, etc.  And we have no need to charge you RV consignment fees or other fees.
Call 844-960-0785.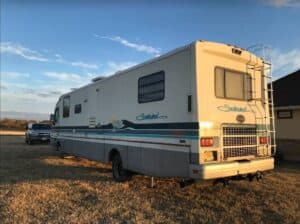 Here's a short video about selling an RV and RV Consignment.

Frequently Asked Questions
How does the RV selling process work?
Selling your RV with RV Consignment Houston is simple. Just contact us to schedule a free evaluation of your RV. Once we assess its value, we will make you a cash offer. If you accept the offer, we will handle all the paperwork and logistics, making the process as smooth as possible.
What types of RVs do you buy?
We buy all types of RVs, including motorhomes, travel trailers, fifth wheels, campers, and more. Whether it's a Class A, Class B, or Class C RV, we are interested in purchasing it.
Do you buy RVs in any condition?
Yes, we buy RVs in any condition. Whether your RV is old, damaged, or in need of repairs, we will still make you a cash offer. Don't worry about fixing it up before selling – we'll take care of it.
How quickly can I sell my RV?
The selling process can be completed quickly, depending on your availability. Once we make you an offer and you accept it, we can finalize the sale within a few days. We strive to make the process as efficient as possible.
Will I get a fair price for my RV?
Yes, we offer competitive cash offers for RVs. Our team evaluates each RV thoroughly to ensure you receive a fair price based on its market value and condition.
Do I need to have the title in hand to sell my RV?
Having the title in hand is preferred, but if you don't have it, we can still assist you. Contact us to discuss your situation, and we will guide you through the process.
What documents do I need to sell my RV?
To sell your RV, you will need the title, registration, and any other relevant documents. Our team will guide you through the required paperwork and ensure a smooth transaction.
Contact RV Consignment Houston
If you're ready to sell your RV or have any questions, don't hesitate to get in touch with us. You can call us at 844-960-0785 or "Contact us". Alternatively, you can fill out the online contact form, and we will get back to you promptly.
If we don't succeed in earning you business, We both lose!
Contact Us