RV Consignment San Antonio
When you are ready to Sell, we're ready to Buy!
Call Harry or Abel at 844-960-0785, Tell us about your RV,
and we will bring cash, or cashier's check to you within a few days.
RV Consignment San Antonio is where you can trade off any RV for a fair price!
For Sale by Owner RV San Antonio
Want more money than the dealer is offering?
Did you inherited a RV, and now need to get rid of it ?
Have you lost interest in the RV lifestyle?
Want to up size or down scale? Want bigger or smaller?
Are the monthly expenses bugging you?
Call Abel or Harry at 844-960-0785 for a top Dollar offer for your RV.

We Pay Top Dollar for your Rig. Cash or Certified Check – your choice here at RV Consignment San Antonio.!
Sell My RV  San Antonio
For the owners of older, neglected RVs who want to sell a travel trailer or motorhome on their own, they may soon discover that the FSBO route is not as easy as it seems.
While some private sellers may get the right buyer within a few days, other RV sellers may need a month or more to find the right buyer for their rig.
We buy RVs in San Antonio!
For a fast, high dollar for your unit, call Abel or Harry for a free appraisal!
Usually we can get the cash or check to you within a few days.
We buy ugly, aged, and neglected RVs in San Antonio!
Call 844-960-0785 for a quick appraisal and offer!
We come to you anywhere in Texas, and the "near me" states.
We're currently buying Motorhomes, travel trailers, fifth wheel, pop up campers rigs manufactured after 2008.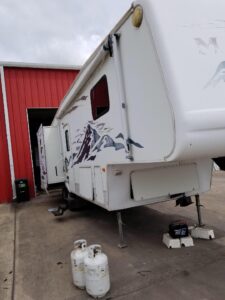 Salvage RVS
Well, RVs do have a limited life span!
At Sell My RV for Cash, We pay more than:
⋆ ☆ RV Consignment
⋆ ☆ RV dealers
⋆ ☆ RV for sale buy Owner