Call Harry or Abel –

844-960-0785 –

for a professional appraisal of your RV!
We will buy your RV, Travel Trailer, 5th Wheel, Camper, Motorhome, etc. for top dollar. 844-960-0785
We came to you anywhere in Texas or near me states.
Any age, condition, or problems (title, leaks, batteries, neglected, dirty, etc.).
We Buy Old RVs
If your RV is old, neglected, or just messy, call Abel or Harry – We just may want your unit!
No Sales, Looker, Buyer, Paperwork, Cleaning – Make Ready, Maintenance, Repair problems.  You get paid NOW!
Call Abel or Harry at 844-960-0785 for more information.
What you really want to say is "sell my RV Texas"
Vintage Campers
Yes, we will pay top dollar for a well maintained Vintage RV!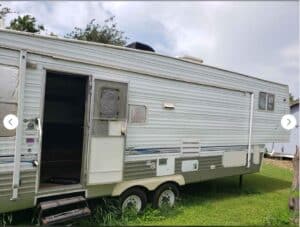 What is RV Consignment Texas
Consignment is an agreement or arrangement where the owner of a Recreational vehicle delivers the RV to a third party, such as a dealer, wholesaler, or consignment specialist. The third party is now in possession unit, but not the ownership of the RV. The third party then markets the RV,
handles the telephone calls and emails,
shows the RV to prospective buyers,
makes the sale,
sets up the financing (if needed),
handles the title change and paperwork, and
the delivers of the RV to its new owners.
The third-party has earned a commission in the area of 10% to 20% of the sales price.
When transaction is completed, the original owner gets a check for a predetermined amount of money for the sale (which will include deductions of the sales expenses, taxes, and other third-party fees).

Depending on the season and current economic conditions, this process can take 7 to 90 days or more to complete.
During this time, the current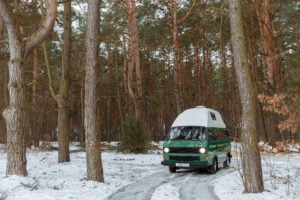 owner is responsible for keeping the vehicle licensed and insured. Also, this recreational vehicle may require additional maintenance or upkeep during this time period.
At RV Consignment Texas – If you find a Better offer, let us Know!
(We will buy your RV for cash, today! 844-960-0785.   Abel and Harry)
How to get the most money for your RV.
Thoroughly clean your RV. The exterior, the windows and doors, the upholstery, the floor, the engine compartment, the storage areas, the stove, the refrigerator, etc.
Repair and fix any small problems such as sagging drawers, loose hinges, nonworking lighting, broken windows/glass, worn seat cushions, upholstery and window treatments, and audio/video / communications equipment, roof leaks, squeaks, heating/cooling system, etc.

The Texas Sun and heat – beating up a once nice motorhome. RV Consignment Texas

Get the vehicle tuned up and the oil changed.  Check and repair the brakes, batteries, filters, tires, etc. and service these items as needed.

Spend some money on accessories to improve the appearance of your RV. Placemats, step rugs, bedding, water and sewage hoses, small wall hangings, drapes, and matching small pillows will add extra value to your recreational vehicle's appearance.
Who Buys Used RVs near me
If you don't want the hassle of going through the RV Consignment process, try the "Sell My RV for Cash" method.
Call Abel at 844-960-0785. We will come to you, anywhere in Texas, with a top-dollar cash offer!
Cash in hand, or check – your choice.
Usually, most transactions are completed within one or two days from the time you contact us!
We Operate through Texas:
RV Consignment Houston
Home of the Houston Astros.  We buy UGLY RVs.
RV Buyers New Braunfels
Beautiful German town – on the Comal.  RVs with flat tires are OK!
RV Consignment Waco
Texas Ranger Hall of Fame – The brilliant, bright bridges on I35
RV Consignment DFW
The Airport has its own zip code and taxing authority.
Dallas, Fort Worth, Amarillo, Texarkana, Tyler, El Paso, Cleveland, San Antonio, Kerrville, Corpus Christi, Brownsville, Cleburne, Austin, Waco, Houston, Sugar Land, Grapevine, Coppell, Devine, Longview, Conroe, Greenville, San Angelo, West, Shiner, Flatonia, Seguin, Arlington, Denton, Burnet, Bowie, and 123 more cities and Texas towns.